Mobile Disco in North Lanarkshire
MB Discos and Karaoke

MBDiscos and Karaoke offers a reliable disco and karaoke service for any event. Quotes include every thing you need from DJ, to music, to sound equipment and lights. We aim to maintain our reputation for reliability and affordability at every function. All of our DJ's have years of experience and can cater for all age groups playing everything's from 60's and 70's to modern dance and chart music.
Full Details & Contact Information
Gyentertainment

Since 1983, I have been creating fun, energetic and memorable events for all of the wedding receptions, school dances, social events and corporate clients throughout the central belt of Scotland. I bring my unique mix of high interaction and family friendly entertainment to every event I perform. My goal is provide you amazing, memorable entertainment for your special event and earn the reputation of being one of Lanarkshire's best.
Full Details & Contact Information
Glasgow Sounds quality discos for a value price

Top quality Glasgow mobile Dj, suitable for any occasion. Quality service for a quality price, available for any event
Full Details & Contact Information
A1 Discos Scotland and Bounty C Events
A1 Discos and Bounty C Events is a growing business offering Entertainment and Event Management Services to customers throughout Central Scotland. We provide individuals or Companies with a professional Disco, Karaoke and Entertainment Services for events, we have equipment to do any Event or Party. Our experienced staff allows customers to feel at ease and the service is designed to be cost effective. We can supply a range of entertainment custo
Full Details & Contact Information
DeeBee Disco's

DeeBee Disco's are based in North Lanarkshire. We cater for any function from Weddings, Engagements, all age Birthdays, Anniversaries and many more. We always aim to provide an excellent variety of music from 60s classics to the current chart sounds, catering for virtually all music tastes.
Full Details & Contact Information
Mark Wild Entertainment


Professional Mobile Disco Entertainment tailored to suit YOUR requirements, covering Glasgow and surrounding areas. Highly competitive prices. Very professional service. You won't be disappointed.
Full Details & Contact Information
Disco UK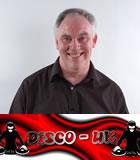 We have been in business for over 30 years and are experienced in all aspects of entertaining. We are able to provide high quality disco equipment with a DJ who is exceptional in their field. We limit the number of discos we are willing to perform at on any evening in order to maintain the high standards we have set. We regularly entertain in all the top Hotels in Central Scotland and are represented by the best Entertainment Agencies in the UK
Full Details & Contact Information
Bigdaddy Productions Entertainment DJ and Karaoke Hire

Looking to book entertainment for your party or event but don't know where to start? Look no further than Big Daddy Productions
Full Details & Contact Information
The Digital DJ

A Lanarkshire DJ we serve the whole of Central Scotland and provide DJ services for all ages and occasions. It might be an Engagement, a Wedding or an Anniversary. It might be a Birthday, a Graduation, or a Retirement. It might be Kids, Teenagers or a Family event. Whatever the occasion, our goal remains the same - to make your event an event to remember. Check out our website for further details.
Full Details & Contact Information
Graham pro Sound and Light


Graham Pro Sound & Light are a professional sound & lighting company established over 20 years with a wealth of experience in the industry, based in Uddingston, Glasgow, Scotland. (Close to both Motherwell and Hamilton). We sell & hire sound & lighting equipment and supply professionals to operate our, or your, equipment. Our services include P.A. supply and hire, DJs & presenters, mobile discos and karaoke
Full Details & Contact Information
Disco Den


Quality mobile disco, Magic shows and balloon modelling. I am a full time professional entertainer and can provide magic shows, games, balloon modelling and a disco. I can be booked for all or any of the above. I cover most areas in central Scotland.
Full Details & Contact Information
Loony Toons Disco

Started the business over 10 years ago after having over 25 years in business. We cater for all functions and are Public Liability Insured; all our equipment is modern and PAT tested. We use MP3 format of music using laptop computer systems and LED Lighting complete with lasers.
Full Details & Contact Information
G*Star Mobile Discos

Lanarkshire's Number 1 Mobile Disco!!! I cater for any event, any size. I have over 18 years experience of providing professional mobile discos. I play the best music around and use the latest and very best in DJ technology. All for a great price. My equipment is PAT tested and I'm fully insured.
Full Details & Contact Information